Coily , Curly , Curly girl products , Home page , Non-sale collection , Style , Stylers & Accessories , Wavy
Curly Hair Towel
Sale price

€39,95

Regular price
200gr
The Curly Hair Towel by Curlygirlmovement is a microfiber towel specifically designed for curly hair. Because the microfiber towel can be used for multiple ways, the towel is a must-have for every Curlygirl!
The towel prevents frizzy hair and is suitable for any hair type. For example, it doesn't matter if you have normal, straight, curly, short or long hair.
Microfiber
Lightweight
The towel dries quickly
Description
The microfiber towel curl in a nutshell
On one side you will find a microfiber fabric with a very nice waffle weave, while the other side offers a fine fabric blend of polyester and polyamide.
Side A extracts just a little more moisture from curly hair, making it dry a little faster and giving it more volume.
Side B extracts less moisture from the hair, thus conjuring more definition.
For Curlygirls with drier hair texture, this side is a godsend!
Both sides are super gentle on the hair, preventing frizz and breakage of curly hair.
Shipping
We ship with DHL Parcel and Deutsche Post. We ship worldwide.
Estimated shipping times for products within the Netherlands (excluding holidays) are 1-2 business days.
Sometimes there are delays. You can track your package with your tracking number that you will receive from us by email.
Shipping to an international address in and outside Europe may take 3-15 business days (or even longer).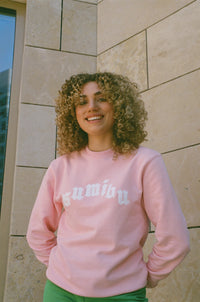 Directions
This towel can be used in various ways:
To remove some extra moisture from the hair after showering before adding the styling products.
After styling with products to significantly shorten the time it takes for the hair to dry
On your shoulders while styling the hair, because the minimal fibers prevent the hair from latching onto the towel as well as prevent frizz.
What are the benefits of the Curly Hair Towel?
There are several benefits why our Curly Hair Towel product is perfect for your hair.
We have listed the main benefits for you:
The smooth microfiber fabric prevents frizzy curls and minimizes damage to your hair.
Because of the microfibers your curls are less easily damaged than with a 'normal' towel
Lightweight
The towel dries quickly
What is the difference between a microfiber towel and a "regular" towel?
A regular terry towel consists mainly of loops of woven cotton. This material makes the fabric rough and the friction quickly damages your curls and hair cuticles.
This creates tangles, split ends and frizz. And that, of course, is something you'd rather not have. In addition, terry cloth absorbs far too much moisture far too quickly. This in turn causes dry hair while hydration is exactly what your curls need.
Most microfiber towels contain different types of microfibers. Due to the smoothly woven microfiber fabric (i.e. without loops), you ensure that your curls are not damaged. And most importantly, it prevents frizzy hair!
How do I use the Curly Hair Towel?
The Curly Hair Towel is easy to use with these helpful tips:
1. Comb or brush your hair after washing before applying styling products.
2. Bending your head forward, shake your curls while hanging over the towel.
3. Slowly move up and down to gently place your curls in the towel. This way, you make sure not to damage your curls. This is because your curls are most vulnerable when they are wet.
Can I use the microfiber towel to plop my curls?
Plopping is a special technique to speed up the drying process of your curls. A microfiber towel is perfect for this.
You use the microfiber towel in a special way that you "fold" your curls and let them rest in the towel so your curls can dry safely.
Result; beautiful, soft, frizz-free and defined curls!
1. All you have to do is grab your microfiber towel after using your styling products.
2. Then lay it down on a flat surface. Bending your head forward, shake your curls back and forth while hanging over the towel.
3. Slowly move up and down to gently lay your curls down in the towel.
4. Then fold the towel tightly, but be careful not to flatten your curls.
5. Secure the towel tightly and let your hair dry. After about 10 to 15 minutes of drying, you can take off the towel and style your curls as desired.
Just don't use your hands too much when doing this, or frizz will develop again.
What is microfiber?
Microfiber is a synthetic fabric made of threads that are not visible to the eye. They are so microscopic, hence the name microfiber. The threads used to make the towel are smaller than about 1/5th of a human hair.
Most microfiber towels contain different types of microfibers. The best known are polyester and nylon.
The smoothly woven microfiber fabric (no loops) prevents frizzy curls and keeps your hair from getting damaged. Also for normal, not curly hair, this towel is great to use.