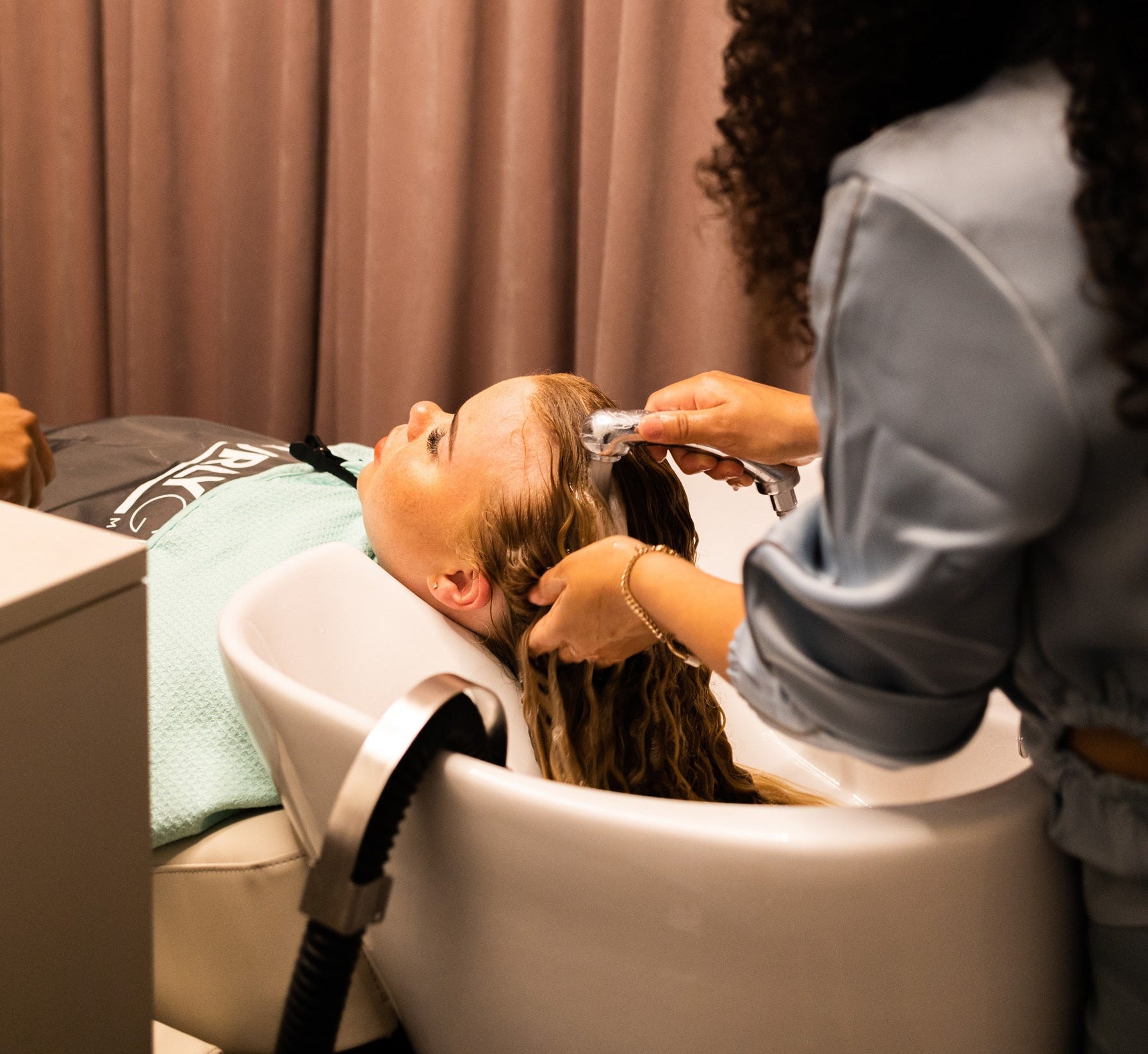 Treatment
At the Curly Hair Spa we do everything in our power to restore damaged hair, roots and scalp. Our curl specialists devote 90 minutes to your treatment. With an advanced steam technique from Italy they free up the pores of your scalp and rid them of dirt so they can breathe again. After that the treatment continues with a hair mask adjusted to your curl type, giving it some much needed care and nutrients. Our specialists also create a personalized care schedule so you can take care of your curls at home.
Privacy and relaxation are taken very seriously at the Curly Hair Spa. So, don't worry that people on the street can see you or the store is packed with people during your treatment. We got you!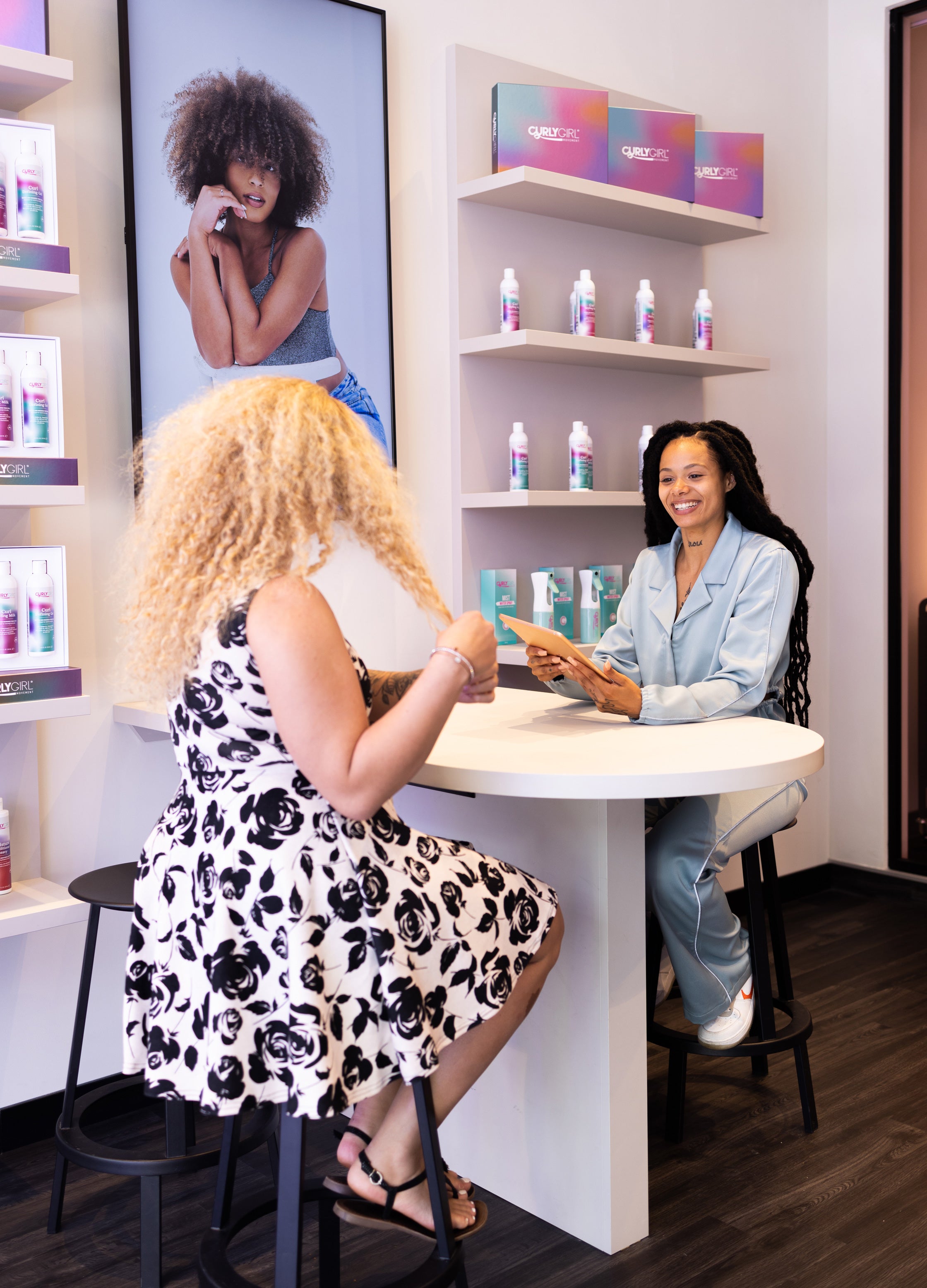 How does it work?
Book your treatment here. You will receive a confirmation e-mail. Payment is done after the treatment at the Curly Hair Spa.
Drink and intake
Upon your arrival, you can take a seat at our waiting area, where you will be served a beverage.
Because we know better than anyone that every Curlygirl is unique and that no curl is the same, we think it is important to sit down with each customer for 10 to 15 minutes before we get started with your beautiful curls. This meeting serves as an intake moment for new customers. This way, we get to know you, we hear what your hair wishes and/or goals are, and we can find out what your hair really needs. Based on this conversation, a personalised treatment is chosen.
For returning customers, this is the evaluation meeting. We will then assess how your hair is doing and what next steps we will take.
The Curlygirlmovement Spa Treatment
While you and your curls are being pampered, you can enjoy a relaxing Air Flow massage. Afterward, your hair is washed and conditioned. This way, you always leave our spa completely relaxed!
Styling and drying
Okay, time for the finishing touch: shaping and diffusing your curls! With us, you walk out the door with a 100% 'good hair day' guarantee. But we also want you to have this at home! That is why our Spa Treatment is also a mini-workshop where you will learn everything about your hair. This way, you are guaranteed to get the same results on your own. Questions? Fire away! We are ready for you.
Do you want to move or cancel your appointment? No problem, just shoot us an email at least 48 hours ahead of your scheduled time at [email protected]. If a reservation is not cancelled in time, cancellation charges are due. These cancellation charges (50%) will be calculated over the total amount stated in the confirmation.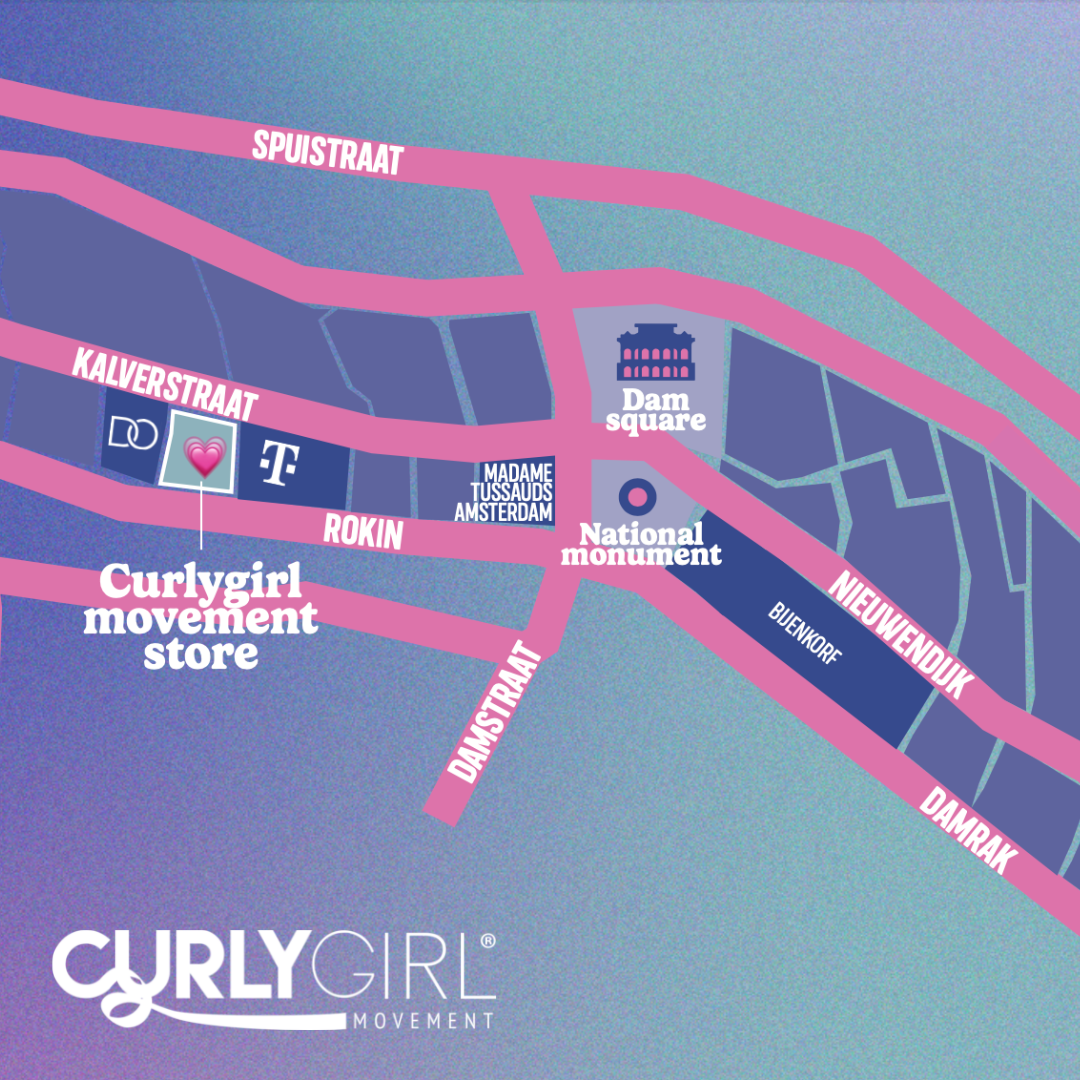 How do I get to the Curly Hair Spa?
The Curlygirlmovement store and salon are located in the city centre of Amsterdam. You can reach us by car and public transportation. Coming by car? Navigate to Rokin 66H, 1012 KW Amsterdam. Across from the store and salon you'll find Rokin's parking garage.

Another option is to park at the P+R in Amsterdam Noord. This will cost you only €1 in parking fee if you continue traveling with public transportation. From this metro station you catch metro 52 heading towards Station Zuid. Within five minutes you'll arrive at Rokin. If you are coming from Amsterdam Central Station you can also catch metro 52 heading for Station Zuid. Get off at the stop Rokin. Our store is located at approximately one minute walking distance from the station.
The Curly Hair Spa is open every Tuesday till Sunday from 09:30 - 20:00.
Route